Look what you can win...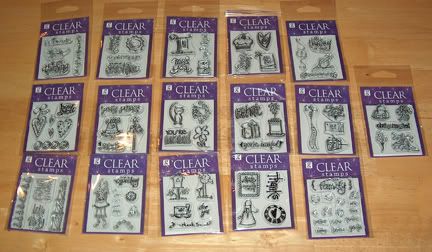 Yep, a full set (16 packages) of the Studio G (series 7) stamps!!
Here is how you get entries:
- 1 entry for putting me in your link list
- 1 entry for posting a message on a publicly accessed message board about SheetLoad (I can't verify non-public messages)
- 2 entries for a blog post w/a link to SheetLoad
- 5 entries for putting a blinkie on your blog (email me at
crafty_al@comcast.net
for the blinkie code - please use "blinkie code" as your subject line)
What you must do to be qualified:
Leave a comment here with:
- First Name and Last Initial
- Email address (I will not be "tracking down" the winner)
- Links to all applicable entries (see my sample comment at the top of the comment entries of what yours should look like)
Timeline:
I will take entries until December 26th.
If you put up a blinkie on your blog, it MUST stay there until the 26th to be qualified for the 5 entries.
Winner will be announced on January 1, 2008.
How the winner is chosen:
After all entries are in, I will compile a list of names and for each entry your name will be put that many times into the drawing. (ie: if Shelly J has 6 entries, she will have her name on the list 6 times.)
I will use a random number generator to choose the winner.
Please make sure to read all rules carefully and include all necessary info in your comment to this post.
If you have already put a blinkie / post on your blog, make sure to leave a comment - you will be included as well.
Thanks and happy promotin'!
Alicia