As you all have probably seen by now, the cards for Nicole's
August Mini SheetLoad
, used some wonderful color combinations.
I don't know about you, but I am always leery to put together more than a couple solid cardstocks together, for fear they will look completely wrong.
Once
Nicole
sent me her samples for the issue, I just had to know how she put together these combinations so successfully. Not only did the answer turn out to be very simple, but she agreed to put together a little tutorial to show you how she did it...
**Make sure to read to the end of the post for a special offer from Nicole**
When trying to make the 'perfect' card for that special someone, we all sometimes get 'creative-block', right? Well, have no fear! Stampin' Up!'s COLOR COACH is HERE!
This simple and inexpensive tool has served me well MANY times when I just couldn't get those creative-juices flowing! For those of you who have not seen it in person, please don't be intimidated! AND for those of you who have one and never used it, let's explore its' uses!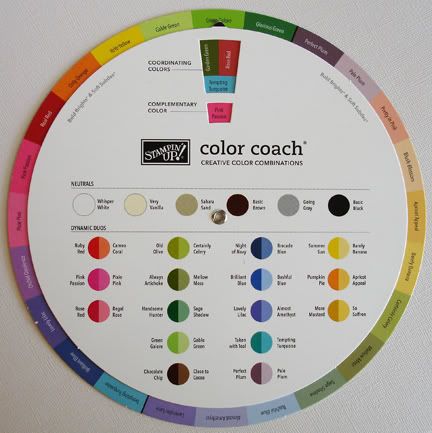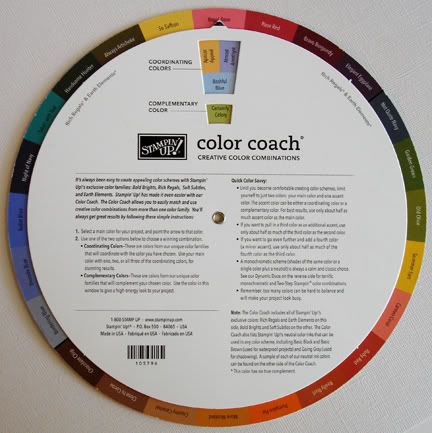 (a & b)


First notice that the Color Wheel has two spinning sides

(see photos "a" & "b" above)

. Stampin' Up! is known for its main 48 colors, that are separated into four distinct color groups. Each side has 2 color groups (or 24 colors) along the outside circumference of the circle.


THIS OUTSIDE COLOR is your 'main' color choice and will be the color that is seen MOST in your final card-creation. You can choose this main color according to your card's occasion... go through the pinks for a girl card; through the browns, blues and greens for a masculine card, etc.


(c)

When you find one that pleases you, you turn the top white circle until the arrow points to your desired color. In my 'purse-card'

(see photo "c" above)

, I chose Regal Rose.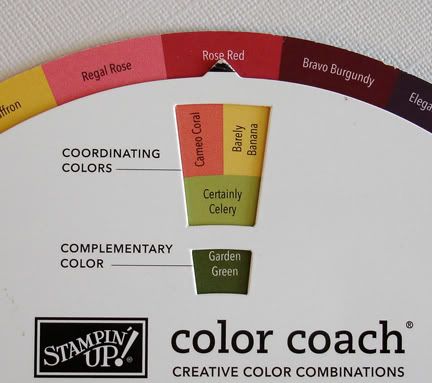 (d)



The arrow is pointed to this color, and then below, it showcases two new boxes.

(see photo "d" above)

The first box, immediately under the main color, includes Stampin' Up!'s COORDINATING color-suggestions. There are three colors in view, but you can incorporate just one or two, if that looks best to you.



Each of these coordinating colors can be used equally (like I designed my card into equal strips of these three) or you can also use them in various amounts. Stampin' Up! has provided instructions on the color coach to explain ways to use the coordinating colors.

After deciding which coordinating colors you would like to use, you can consider using the second box below the coordinating color box. This second, single-color box contains Stampin' Up!'s complementary color suggestion. This color is to be used to make your card POP with energy!



When using this complementary color, I use this sparingly. Sometimes just a ribbon or a line of brads in this color gives my card just the little detail it needs to be perfect! I used the Certainly Celery suggestion to encompass my three coordinating color strips; and I do think this color makes the three coordinating color and main color POP!


The color coach also has some light/dark color-combo suggestions when using a monochromatic (one-color) color-scheme. Using these duo-colors can be useful when really wanting to make your 'details' (not just the colors) get more attention and really make a statement.



If you are someone who uses cardstock, other than Stampin' Up!'s, you can still use this color wheel by choosing the main color that is closest to the cardstock (by Bazzill or other) you have chosen to use. Then just use the suggested colors as close as you can find in your stash!



Also know that these suggested colors do not need to be solid-color cardstock only! You can use patterned paper, ink or embellishments as long as they are the appropriate colors!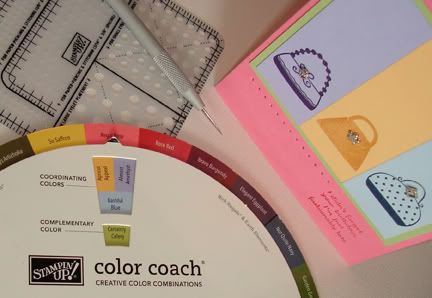 I hope you take a chance trying this useful and creative tool!




** Limited Time - Special Offer from Nicole**

Get a Stampin' Up! Color Coach delivered to your door

(US customers only)

for only $13.00!!!


Place your order with
Nicole
by September 1st
and get the Color Coach for just pennies above cost!!


Don't have your Fall-Winter 2008 Idea Book & Catalog yet?! Contact Nicole to find out how to get a copy for yourself.