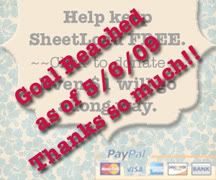 I posted about
donations
Monday morning, and as of Tuesday at 10:30 AM I had turned the button off, because the goal was reached (and surpassed)!
A total of $122 was raised. This will go toward the 4Shared and Mr Linky accounts and there is even some leftover for future blog candies, or to help with shipping costs.
(Even after the button was shut off, donations are continuing to come in and now we are up to $177.00!)

Thanks so much to everyone who keeps coming back to my little site, and especially to the following readers for helping to reach the goal...
Justin L
Mariska P
Pascale S
Linda R
Gerriann A

Sheryl G
Bonny A
Vicki W
Julia R
Melissa L

Kathleen N
Teri B
Denise R
Peggy H
Eveline vH
Sherlie M

Lynnette C
Michele S
Cheryl B
KD Wasa
Sheena B
Karen L

Angela P
"Aussie Gals"
Beverly G