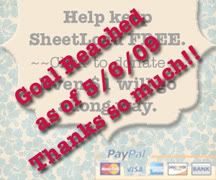 Many of you may not know, that besides sponsored product and the small income from paid ads, I fund
SheetLoad
entirely on my own.
Because I love working with my incredible design team, learning about and using new product from our sponsors, and sharing my "little" eZine with all of you, I want to continue to make it available at no cost.
If you do enjoy the magazine, and would like to (and financially able to) contribute, please do so by clicking on the button above (or on the left side of the blog). Any amount, no matter how big or small, is greatly appreciated and will be entirely put toward funding the future of SheetLoad of Cards.
Any monies received through donations will be put toward the following:
- Server space on 4Shared Account. Currently I pay $9.95 per month for online filesharing. Without the paid account, only about 1/10th of you could download the issue each month. This also allows me to keep all of the archived issues available for download.
- Shipping of Blog Candies/Prizes. I usually spend upwards of $50 per month shipping product to my design team and multiple blog candies, including to International winners.
- Mr Linky "Gold" Account. Enables me to offer up multiple blog candies at a time, and keep track of all of the entries; easily.
If/when I reach $100 donated, I will turn off the donation button. At that point I can pre-pay a year of 4Shared and the year of Mr Linky "Gold". The paid ads will pretty much cover shipping of prizes/product after that. (I will keep a running total below the button in the sidebar.)
Donations will be collected securely through PayPal.