As first discussed in
this post
, there are going to be lots of changes in 2009 to the
SheetLoad
Artist Team.
You already know the "retirees", in the next installment you will meet the "new hires" and today I am going to share a "transfer" we have.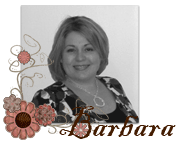 Starting with the March issue,
Barbara DeBose
, will be transferring to the position of Sketch Artist. Barbara has been a Sample Artist for
SheetLoad
since the beginning. Not only am I lucky enough to have her create for th eZine, but she is a personal friend of mine.
Over the last few months she has been asking me when she could do a sketch for the eZine and has even submitted some ideas.
With Carla leaving us in January, we had a Sketch Artist opening, so I thought Barbara would be perfect for it. She did not hesitate at all to accept the position.